Our Hotel will surprise you
In the charming setting of the north Adriatic coast, just a short walk from the beach,stands Hotel Bristol, one of the finest 4-star hotels in Jesolo. It is located between Piazza Aurora and Piazza Nember, just a few minutes away from the lighthouse and the Laguna Shopping centre.
The hotel, comprising 5 floors, has 65 rooms, including standard rooms with side sea view, standard rooms with front sea view, superior rooms with side sea view and superior rooms with front sea view.
The large and bright hotel reception area will welcome you with our small elephants, the hotel mascots. In the elegant entrance hall, you will find a spacious and cosy lounge where you can relax with other hotel guests.
The hotel will charm you with its classic and elegant style, in line with the standards offered by the best hotels in the area.
THE QUALITY WE STAND FOR
The best features of our hotel are its restaurant, thanks to our Chef who prepares delicious meals from breakfast to dinner; the wonderful terrace just outside the dining room, sunny and open throughout the summer, which directly faces Jesolo beach; finally, the bar counter, which complements the dining room, where you can sip exquisite cocktails, made with fresh fruit, sitting right next to the seashore. The two swimming pools with heated freshwater, one for adults and one for children, are located in front of the large terrace and are the best way to cool off on a sunny day. Come and see us to try all our facilities!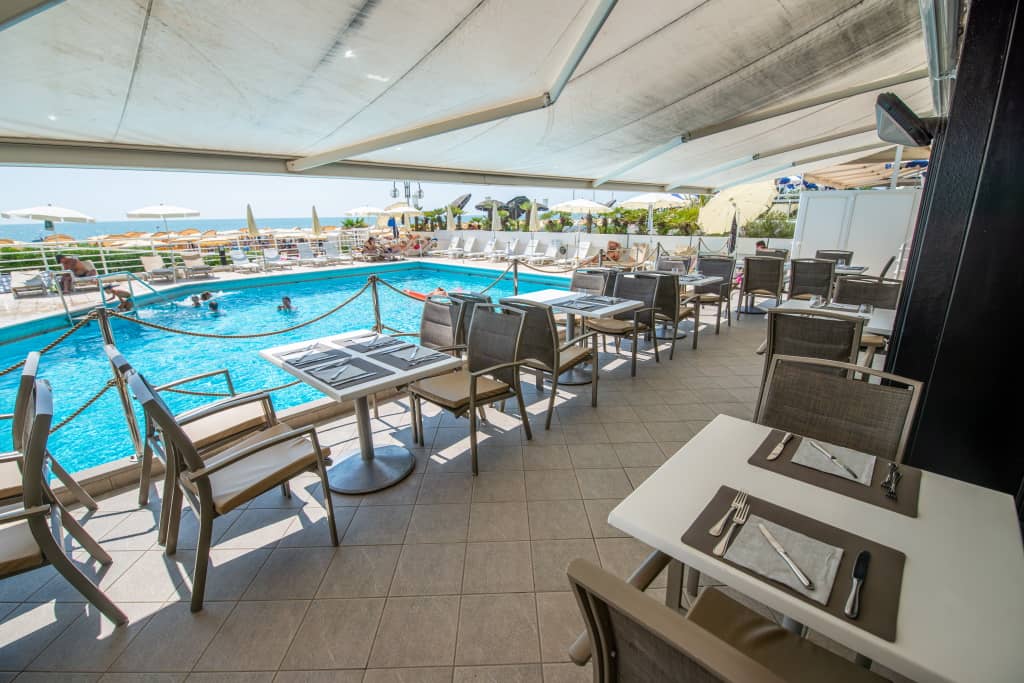 Hospitality is a mainstay at our hotel
Hotel Bristol's rooms are spacious and furnished in a simple yet elegant style. They are provided with all necessary facilities, including wooden and wicker furniture and tile or parquet flooring. The rooms have been recently renovated to offer our guests the maximum level of comfort. Each room has a terrace with a side or front sea view.
Thanks to the many options available, customers can choose from B&B, half board or full board.
In such a location, the hotel is the perfect seaside resort for couples and families who wish to enjoy a peaceful holiday at the beach while exploring all of Jesolo's attractions: in fact, along the cycling track you can easily reach the main squares of the Lido and the main shopping street. In addition, Aqualandia, Jesolo's water amusement park, is also very close to the hotel, and nearby there are other major tourist destinations such as Venice and its islands.